Mixed results obtained from Georgia water quality sampling effort
0
by Greg Loughnane
— August 23, 2010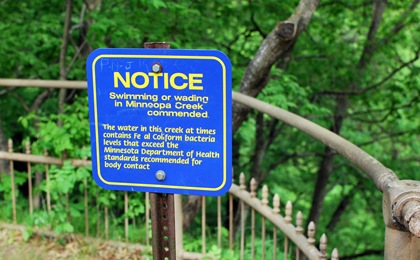 Some Georgia waters have recently been deemed unsuitable for swimming or wading following a water quality analysis of 50 sites throughout three counties this month. The risk assessment is based on harmful levels of fecal coliform bacteria, a known indicator of pathogens present in water.
Fecal coliform bacteria are microscopic single-celled organisms that are measured in "colony forming units," or cfu. To put these units into perspective, five million bacteria could be placed on the head of a single pin.
The standard established by the state of Georgia for the warmer part of the year is that no more than 200 cfu of fecal coliform may be present per 100 milliliters of water, based on sampling performed over a 30-day period.
The Augusta Chronicle began the sampling effort because to get a sense of how clean the water in their area was.
"The purpose was to gauge — at least on the date of sampling — how much potentially unhealthy bacteria was present," staff writer Rob Pavey said.
The newspaper sought expert assistance to ensure the study's credibility, including the recruitment of the state-of-the-art microbiology lab at Augusta State University to perform the bacteria testing.
Savannah's Riverkeeper director Tonya Bonitatibus and retired Medical College of Georgia professor Frank Carl, who is certified by Georgia's Environmental Protection Division to teach classes on bacteriological monitoring, were also brought on board for their expertise to help put any findings into perspective.
Chronicle reporters actually took the lead on manually sampling the areas of interest, following equipment and supply recommendations from the federal Environmental Protection Agency and Georgia's Water Protection Branch.
Results from the study showed that most of the fifty sites were well above the 200 cfu limit, and some even measured in the thousands. A Savannah River storm drain in Olde Town and the third level of the Augusta Canal had bacteria levels that were "too numerous to count", according the microbiology lab at Augusta State.
With unsafe levels of bacteria comes increased risk for gastroenteritis, which is known to cause vomiting, diarrhea, fever, nausea, and stomachache. High bacteria counts can also spawn eye, ear, and throat illnesses.
Causes for these unsafe fecal coliform levels include stormwater runoff, old septic tanks, pets, livestock, and leaks in old sewer lines, according to Garrett Weiss, the Augusta Engineering Department's environmental and stormwater manager.
Of the sampled waters, there are parts of three streams that have already been recognized on a federal level as being impaired waterways. Weiss commented "That's not to say those are the only ones, but those are the only ones that are designated."
Analysis shows some water sources OK, others not fit for wading [The Augusta Chronicle]
Image Credit: meddygarnet