Minn. DNR sued for poor zebra mussel control
0
by Audrey Rabalais
— March 29, 2012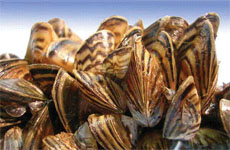 Three Minnesota lake associations are taking the Minnesota Department of Natural Resources to court for failing to prevent the spread of invasive zebra mussels. According to Minnesota law, the DNR must establish a statewide preventative program to stop the mussels' invasion and spread. The associations are pushing for mandatory boat inspections before entering lakes. However, the DNR says they do not have the legal authority to facilitate this right now.
Though there is a bill in the legislature that would allow the DNR to do inspections, the plaintiffs argue that the law will not pass soon enough for them to stop their lawsuit. A Carver County, Minnesota court will hear the case on April 4.
Read more at CBS Minnesota.