Louisiana's wetlands can't take much more abuse
0
by Dave Hochanadel
— May 5, 2010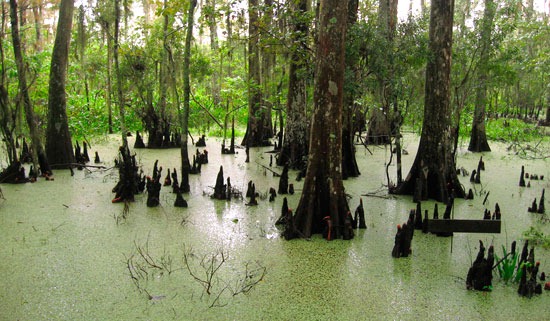 For weeks, crude oil has been gushing into the Gulf of Mexico following the now-notorious April 20 explosion aboard the Deepwater Horizon drilling rig.
As it is continually fed by a yet-unfixed underwater pipe, the gargantuan oil spill — termed by some as the worst environmental disaster in U.S. history — is washing up along the delicate Louisiana coast and working its way toward Alabama and Florida.
The spill not only poses a risk to the Gulf's water quality and U.S. shorelines, but it may also begin seeping into Louisiana's other surface waters, including its fragile coastal wetlands.
Though the grassy marshes might appear healthy superficially, they're in fact quite ill. The wetlands are already devastated by construction, agricultural runoff, levees that prevent sediment replenishment, and natural disasters including Hurricanes Katrina and Rita. Since 1932, the wetlands have been losing "a football field of area every 45 minutes on average" as well as diminished biodiversity.
The wetlands are a mix of marine and fresh water and home to species native to both environments. For decades, canals built by oil companies have disrupted the ecosystem and pulled more salt water into the wetlands than what would naturally be present. The change in water flow has affected the types of plants that can survive and the wetlands' ability to protect Louisiana from hurricanes.
The oil spill, which has already been seen penetrating the coastal marshes, poses a worse threat to these struggling wetlands than it would ones in good health. Some worry the introduction of the oil could kill off the grasses that hold together the wetland ecosystem, one of the most diverse in the nation.
Thousands of gallons of freshwater from the Mississippi River are being diverted in an attempt to flush the oil out of the wetlands, but the effort is being hindered by wind. No one is certain how far inland the oil will be able to move. It largely depends, according to the New York Times, on the strength of the wind and wave action and how quickly the leaking pipe can be sealed. If enough oil is able to permeate this troubled ecosystem, though, many worry how many more calamities the wetlands will be able to survive.
Choppy Seas Hinder Effort To Contain Oil Spill [NPR] Gulf Coast Towns Brace as Huge Oil Slick Nears Marshes [The New York Times] Will oil deal final blow to besieged marshland? [msnbc]
Image Credit: http://www.flickr.com/photos/kenlund/ / CC BY-SA 2.0