Pollution control agency on the lookout for volunteers
0
by Charity Smalls
— August 10, 2011
Minnesota Pollution Control Agency needs volunteers to help keep the state's rivers and streams clean.  The Citizen Stream Monitoring Program (CSMP) enables Minnesota residents to serve as an extended arm of the MPCA.  CSMP was founded in 1998, according to the MCPA website.  At that time, there were only 17 volunteers who monitored 22 sites.  Thirteen years later, CSMP now has more than 500 volunteers who are responsible for approximately 800 sites. However, there are still 92,000 + miles of river that need to be monitored.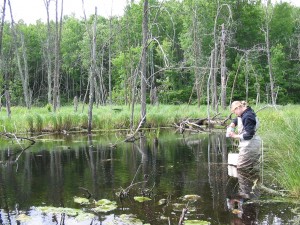 CSMP volunteers monitor streams and rivers during the summer months- beginning in the spring. Once a week, they visit their assigned post and observe the following criteria: transparency, appearance, recreational suitability, and stream stage. In addition to observing phenomena in streams and rivers, volunteers are encouraged to monitor rain levels as well.   The agency provides all volunteers with the necessary equipment, such as transparency tubes and rain gauges. Volunteers post their findings on an electronic data sheet and email their results to the MPCA.   All data sheets must be submitted by October 31st.
The MPCA is also looking for volunteers to monitor state lakes and watersheds.  As with the CSMP, the Citizen Lake Monitoring Program (CLMP), volunteers are provided with monitoring equipment and monitor lakes during the summer. However CLMP volunteers must have access to a canoe or a boat, according to the Jordan Independent.
To volunteer, visit the MPCA website, choose a monitoring site from the current list, and fill out a form.   Volunteers must be 13 years old or older to sign up, or if under the age of 13, must have parental or guardian approval.  After joining the program, volunteers receive data sheets, monitoring equipment, an instructional manual, training video, and T-shirt.  For additional information, please contact Laurie Sovell, Johanna Schussler, or Miranda Nichols at either (800)657-3864 or (651) 296-6300.
MPCA looks for local volunteers to monitor lakes [Jordan Independent]
Citizen Stream Monitoring Program [MPCA]
2011 Station Recruitment List [MPCA]
CSMP Volunteer Sign up [MPCA]