Latest issue of Michigan Sea Grant's Upwellings now available
0
by Dave Hochanadel
— June 22, 2010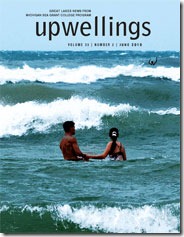 The summer edition of Upwellings, Michigan Sea Grant's quarterly newsletter, is now available online. This issue's theme is how to stay safe in and around the Great Lakes.
An introductory editorial by the editor reflects on her college memories of a man who died after getting caught in Lake Superior's currents. This issue also talks about lake physics issues such as rip currents and another recently discovered current hazard called "channeling." Also detailed are a litany of other dangers present in the Great Lakes and what to do to survive them.
"Enjoy the lake, appreciate its beauty, but also know what the hazards look like," wrote Upwellings editor Stephanie Ariganello.
The quarterly newsletter is available for free online or in print and covers Great Lakes issues and as well as sharing the progress of the organization.
Stories in this issue:
Editorial: Love the Lakes, but Know Their Strength
Tuning in to the Hazards of the Great Lakes
Other Common Hazards In and Around Water
Close Calls
News From Michigan Sea Grant
Featured Website: Pure Michigan
Upwellings [Michigan Sea Grant]