Lake Erie's Wheatley Harbour graduates from "areas of concern" list
0
by Dave Hochanadel
— April 19, 2010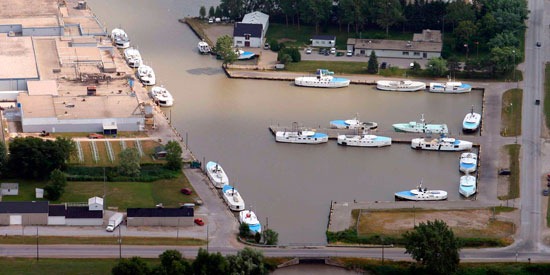 It's been an "area of concern" for 25 years, but now Lake Erie's Wheatley Harbour has at last been restored to good health. The southwestern Ontario harbor has been removed from a list of environmental hotspots, making it one of only four sites to make it off the list.
Impaired by PCB contaminants from fish waste, the 21-hectaacre Wheatley Harbour Area of Concern was devoid of almost all aquatic life in the 1980s. Phosphorus nutrient loading that came from the effluent of local processing plants and agricultural runoff fed harmful algal blooms that depleted the harbor's dissolved oxygen. Moreover, the watershed was contaminated with the raw sewage of malfunctioning home septic systems.
Most all species had died off thanks to the contamination and low oxygen levels. The harbor was designated a Great Lakes Area of Concerns under the U.S.-Canada Great Lakes Water Quality Agreement in 1985.
The harbor formally shed that title on Friday. A number of environmental organizations, industries, and the provincial government have worked to remediate the harbor's water quality. According to The Vancouver Sun, processing plants in the area have updated their sewage treatment systems to clean PCBs and phosphorus from their discharges. Several sediment dredging projects have also helped to clean the contaminants already on the harbor bottom. Finally, federal grant programs provided funding for homeowners to repair their septic tanks.
Water quality has now improved, and the area enjoys an abundance of underwater life — about 36 species. The Sun notes, however, not everyone has been pleased with the results, pointing out that many environmentalists are concerned it took 25 years to clean up an area of concern that was supposed to be one of the "easy ones."
Is the successful cleanup an inspiration, or are you worried it took 25 years to get this far? Share your thoughts in the comments below.
Lake Erie's Wheatley Harbour Cleaned Up [Government of Ontario News] Wheatley Harbour graduates from pollution hot spot list [The Vancouver Sun] Image Credit: Courtesy of the Government of Ontario News