Lake Erie algae problems spreading
2
by Dave Hochanadel
— March 15, 2010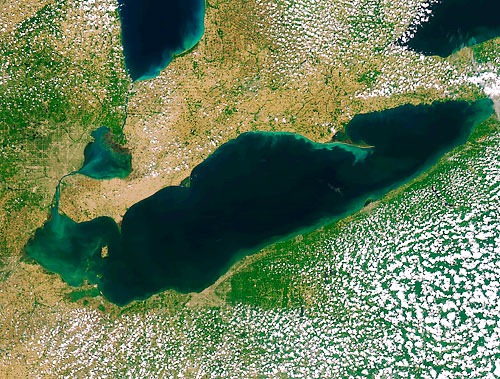 Note: To keep up to date on the Lake Erie algae condition and other issues in the lake, follow our Lake Erie page.
Lake Erie's declining health might return it to conditions as bad as in the 1970s, when it was written off as dead, reported the Monroe Evening News.
Runoff from farms and other sources is loading the lake with nutrients, such as phosphorus, which leads to algal blooms that gives the lake a bright green glow in the summer. The contaminants can also cause skin irritation and illness for both people and animals exposed to it. This problem has until recently remained mostly in the shallow western basin that borders northwest Ohio, which is hit hardest with phosphorus pollution.
About 50 concerned environmentalists, watershed group members, government officials, scientists, and others met over the weekend for a public forum at North Cape Yacht Club in Lasalle, Mich. to discuss Lake Erie's health problems. The forum is part of the Lake Erie Management Plan (LaMP).
LaMP's project manager, Daniel O'Riordan, noted that the nutrient-loading problems in the western basin is the organization's chief priority.
The problem is spreading into other parts of the lake, too. Dr. Jeffrey Reutter, director of the Ohio Sea Grant and The Ohio State University's Stone Laboratory, said the algal blooms are moving out from the western basin and into the central basin. He added that toxins in Lake Erie from microcystis (blue-green) algae are in concentrations 60 times greater than safe levels recommended by the World Health Organization.
Farm operations are considered the largest contributor to the nutrient loading of the lake. The state phosphorus task force, which is researching methods to limit the pollution that's causing the algal blooms, recommends the amounts, timing, and method of fertilizer application be better managed to control the influx of pollutants.
About $34 million of the $475 million Great Lakes Restoration Initiative will be directed toward encouraging the agricultural industry in the area to control their amount of fertilizer runoff.
The lake's good health depends on big changes, Reutter said, adding, "There's nothing that we see happening right now that's going to prevent this from getting worse in the future."
Lake Erie water quality worsening [The Monroe Evening News] Image Credit: Modis satellite image, NOAA Coastwatch-Great Lakes