Great Lakes phosphorus levels on the rise, according to IJC report
0
by Greg Loughnane
— March 10, 2011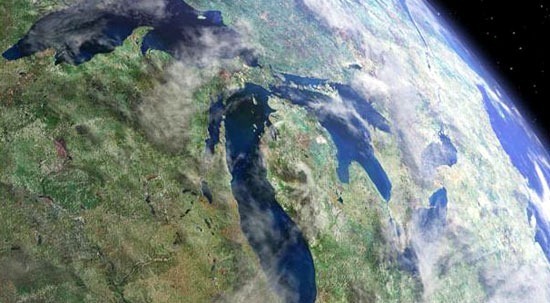 Phosphorus levels in the Great Lakes have been increasing at an alarming rate, according to a report released on Wednesday by the International Joint Commission. The study concluded that the reappearance of blue-green algae over the last few years is endangering the food chain as well as human health.
Lake Erie in particular was deemed the "poster child" for eutrophication by the commission's U.S. co-chair Lana Pollack. The lake has historically dealt with regular harmful algal blooms, especially throughout the '60s and early '70s.
An equally concerning problem is identifying the source of the pollution.
"We don't know where the phosphorous is coming from," said Bill Bowerman, chair of the IJC's science advisory board and a wildlife ecologist at Clemson University. "Some of our monitoring programs that would allow us to understand this either are under threat or have disappeared over the past 15 years."
The biennial report included 32 recommendations made to both Canadian and American governments, including a call to action for both countries to renew their efforts of removing phosphorous from the water.
Some additional noteworthy recommendations were:
Human health language should be included in the bi-national water quality agreement currently being renegotiated between Canada and the U.S.
All levels of government should restore and protect wetlands and forest lands
Runoff into the lakes should be reduced by creating buffer strips on farmland, constructing rain gardens and green roofs in urban areas, and reducing urban sprawl and its resulting impervious surfaces.
The document also proposed that nutrient loading into the lakes has been and continues to be a problem due to a combination of inadequate municipal wastewater and residential septic systems, agricultural runoff, industrial livestock operations, and the impacts of climate change.
"The problem stems from [the fact] we are now almost at seven billion people and we need to feed them," Pollack said. "So we are farming marginal lands and increasing crop production by adding more nutrients that eventually go to the lakes and rivers."
The detailed report also addressed chemicals of "emerging concern" as well as problems with invasive species. To see the full report, visit http://www.ijc.org/rel/boards/watershed/15biennial_report_web-final.pdf.
Great Lakes phosphorus levels rising, report warns [CBC News] Great Lakes phosphorus levels worrisome [United Press International]
Image Credit: Image Credit: Mark Alberts