For sockeye salmon, surviving heat is a superpower
0
by Dave Hochanadel
— April 7, 2011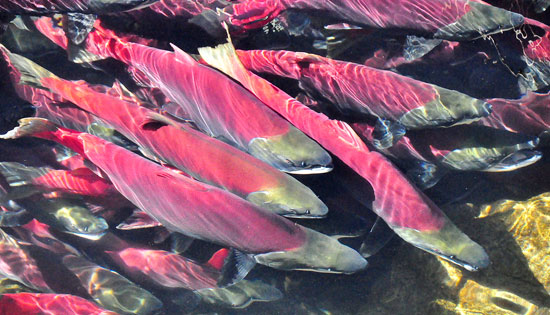 They don't have laser vision or the ability to swim faster than a speeding harpoon. Nonetheless, the Chilko sockeye have received the enviable title of "Superfish" from University of British Columbia, Vancouver researchers.
This specific breed of salmon has demonstrated exceptional ability to cope with higher temperatures during migration, while the warmer water is having much more adverse effects on other species, according to research recently published in the journal Science.
Many of the more than 100 distinct populations of sockeye salmon in the Fraser River in British Columbia are accustomed to such specific environmental variables that even slight variations in water temperature or flow can inhibit their migratory ability and significantly increase mortality.
In fact, 80% of certain populations died of heat stress before reaching their spawning grounds in 2004. Over the last 60 years, the temperature in the 2,000-kilometer-long Fraser River has increased by nearly two degrees Celsius. Moreover, the last 20 years have shown some of the warmest-ever recorded temperatures.
Sockeye adhere to extremely rigid migration patterns, and the Chilko actually have one of the toughest paths. They travel up 650 kilometers of the Fraser River, climb a kilometer in elevation, and pass through what's called "Hell's Gate," a narrow span of the river that is only 115 feet wide.
The researchers believe that it is this challenging migration route that has conditioned the fish to better handle the warming river.
Lead author Erika Eliason, a graduate student at UBC sought to compare different salmon populations' abilities to handle the warming temperatures.
Over the span of three summers, Eliason captured 97 salmon migrating upstream and conducted numerous stress tests. By placing the fish in a portable "fish treadmill," she was able to expose the fish to different water speeds and vary water temperature from eight to 26 degrees Celsius.
She also continuously monitored the amount of dissolved oxygen during the stress tests and then dissected some fish to examine their hearts afterward.
She found that the Chilko were the most resilient of the eight sampled salmon populations, as they were capable of coping with even the hottest 26 degree Celsius water. Other species, such as the Weaver sockeye, gave out in anything warmer than 21 degrees.
Eliason found that the Chilko salmon typically have larger hearts and are more athletic, as exhibited by their efficient use of oxygen in the water, and it is likely these attributes that made them capable of handling a broader temperature range.
Some Salmon Can Take the Heat [Science NOW] Sockeye salmon at risk of overheating due to climate change: study [The Globe and Mail] 'Super' salmon resist climate change better: study [Agence France-Presse]
Image Credit: http://www.flickr.com/photos/superwebdeveloper/5072921225/