Devils Lake: forever on the rise
1
by Charity Smalls
— July 7, 2011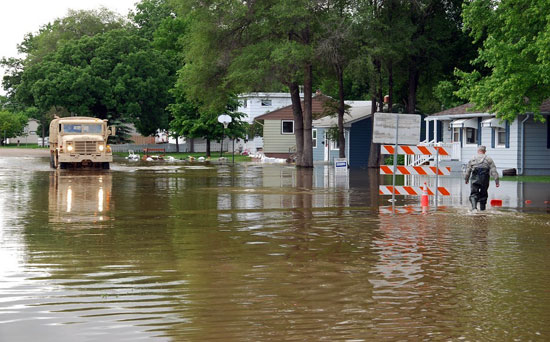 North Dakota's Devils Lake has menaced locals for almost two decades. Since 1993, it's more than tripled its surface area, according to the Devils Lake Journal. Despite the state's best efforts, lake levels continue to rise and flood nearby towns.
Roughly $1 billion has been spent on preventative measures, according to The Atlantic. During the '80s, an eight-mile, 1,445-feet-high levee was constructed along the shore of the Devils Lake municipality. It's now being raised for a third time. In addition to raising the levee, officials have considered engineering a manmade outlet on the east side of the lake.
The outlet would allow excess water to be diverted into the Sheyenne River, which flows into the Red River and empties into Lake Winnipeg. But the proposed solution has received staunch disapproval from those outside the Devils Lake area, according to The Atlantic.
Both rivers have trouble with flooding, and critics say additional water would only make matters worse. The diverted water could also negatively impact both rivers' water quality, since the lake is salt-rich and has been contaminated with agriculture residual.
The state entered into talks with the Army Corps of Engineers but found the project could be cost prohibitive as well. Instead, the state built a small outlet on the west side of the lake to combat the rising water. While some say more should be done, Lorraine Grey Bear, a Dakota language and cultural instructor, disagrees.
"What is really in my heart is that the lake should be left alone," she told the Atlantic, adding that the lake's flooding was a "natural occurrence."
The North Dakota Farmers Union has urged Governor Jack Dalrymple to take action against the flooding, according to the Devils Lake Journal. Union President Robert Carlson issued a letter after meeting with local farmers who have lost acres of cropland due to flooding or were landlocked and unable to reach their farmland. The letter petitioned the governor's office to meet with selected members from areas of concern to discuss the Tolna Coulee water control structure and necessary water release levels.
"This is not a situation that will resolve itself," Carlson said. "Action must be taken now to ensure a future for the Devils Lake region."
In response, the Devils Lake Executive Committee has concluded its report and will submit it to Washington. The committee was created by a federal task force and consists of a combination of federal, state, and local officials, according to the Devils Lake Journal. The committee, under the direction of Brigadier General Michael Walsh of the U.S. Army Corps of Engineers, read the report and opened the floor for questions and comments from the public.
"The people here shouldn't have to suffer anymore… its' clear we must find some way to get water off this lake as soon as is humanly possible," Gov. Dalrymple said.
Spirit Lake Rising: Living with a Never-ending Flood [The Atlantic] ND Farmers Union asks governor to tackle Devils Lake flooding crisis [Devils Lake Journal] Devils Lake Executive Committee finalizes report [Devils Lake Journal]
Image Credit: http://www.flickr.com/photos/thenationalguard/5864496216/