Coal-tar sealant is leading source of PAHs in urban lakes, according to USGS
1
by Dave Hochanadel
— December 28, 2010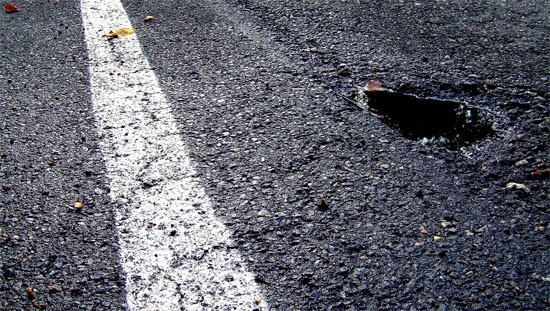 Coal-tar based pavement sealant is the leading source of polycyclic aromatic hydrocarbons (PAHs) in 40 urban lakes spanning the nation, according to research from the U.S. Geological Survey published this month.
PAHs are a group of more than 100 chemicals that are produced when coal, oil and gas, garbage, or other organic substances are not burned completely. Several of them are considered probable human carcinogens and pose a threat to aquatic life.
The USGS study, published in the journal Science of the Total Environment, found that runoff from a kind of sealant that is painted onto asphalt to extend its useful life accounted for roughly half of all PAHs in the surveyed lakes. Additionally, vehicle-related sources are responsible for one-quarter, and coal combustion is the third-highest source at around 20 percent, though it varies greatly based on coal use in the area.
USGS scientists collected sediment cores from 40 lakes, analyzed them for PAHs, and determined the contribution of PAHs from different sources using a chemical mass-balance model.
They found that lakes receiving PAHs largely from sealcoat runoff tended to have high concentrations of the toxic substances, enough to threaten aquatic life.
PAH from coal-tar based sealcoat has been on the rise since the 1960s, according to the USGS, but it took researchers decades to determine the source.
In fact, it wasn't until the 1990s that researchers noticed levels of PAHs were rising significantly in urban lakes.
Finally, in 2005 researchers in Austin, Texas discovered remarkably high amounts of PAHs in drainage ditches, which helped them identify nearby parking lots as the source of the pollution. This survey found that small particles of the sealcoat are worn off by traffic and then carried by stormwater runoff to nearby surface waters. The USGS study aimed to extend this research by gaining a broader survey of PAHs' impacts and sources.
The three most PAH-contaminated sites from the survey are the Charles River in Boston, Newbridge Pond in New York City, and Upper Mystic Lake in Massachusetts.
Although PAHs are extremely hydrophobic, they settle into the lake-bottom sediment. That means they're not a hazard to drinking water, but more to bottom-dwelling plants and animals.
The USGS states that PAHs in concentrations higher than 22.8 parts per million of sediment will likely harm bottom-dwelling life. The Upper Mystic Lake, for instance, contained 79.01 ppm of sediment, 55.98 of which came from the sealant.
Responding to earlier research on the toxic substance, Washington, D.C., Austin, Texas, and numerous other areas have banned coal-tar-based sealants, according to The Arlington Advocate, and Home Depot stopped carrying such sealants five years ago. But the sealant is still widely used throughout the nation, according to the USGS, especially in the Midwest, the South, and the East.
New source of pollution discovered in lake that borders Arlington [The Arlington Advocate] Coal Tar Sealant Largest Source of PAHs in Lakes [U.S. Geological Survey]
Image Credit: http://www.flickr.com/photos/articnomad/211169462/