Big invasive threats can come in microscopic packages, study asserts
1
by Dave Hochanadel
— December 8, 2010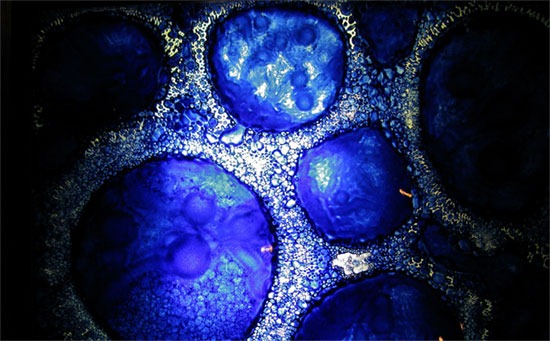 Species such as the behemoth Asian carp and prolific, lake-bottom-blanketing zebra mussel might be some of the most conspicuous Great Lakes invaders, but a new study says scientists should focus more on microscopic threats.
Elena Litchman, Michigan State University associate professor of ecology, argues that invasive microbial invaders shouldn't be ignored or underestimated.
"Invasive microbes have many of the same traits as their larger, 'macro' counterparts and have the potential to significantly impact terrestrial and aquatic ecosystems," she said. "Global change can exacerbate microbial invasions, so they will likely increase in the future."
Litchman's research, which was partially funded by the National Science Foundation, appears in the December issue of Ecology Letters. In the study, she outlines the research required to identify microbes that could be invasive threats and determine what ecosystems they might endanger.
Invasions by exotic viruses, bacteria, fungi, and other microbes are likely overlooked due to their difficulty to detect. Lack of awareness, compounded by warming temperatures induced by climate change, could worsen these microscopic incursions, Litchman said.
"Increasing air temperatures have been implicated in the spread of malaria and other pathogenic microbes into higher altitudes and latitudes," she said. "Likewise, climate change could stimulate invasions by tropical and subtropical nonpathogenic microbes into temperate latitudes."
A few microbes, such as the Chestnut Blight fungus that has plagued American Chestnut trees, are well known. But most non-pathogenic microbial invasions go unnoticed despite the profound effects they can have ecosystems, Litchman said.
For instance, a brackish diatom has colonized Lake Michigan, likely via ballast-water discharge, and is now the most prolific diatom in the water body.
Microbial invasions could even cause an "invasional meltdown," according to the study, meaning earlier invasions could pave the way for other exotic life that thrives in the presence of such microbes.
Download a PDF of the complete study: "Invisible invaders: non-pathogenic invasive microbes in aquatic and terrestrial ecosystems."
Invisible invasive species [Michigan State University] Image Credits: http://www.flickr.com/photos/jurvetson/3927416201/, Michigan State University