World's rarest duck population increases with hatching
0
by Audrey Rabalais
— April 6, 2012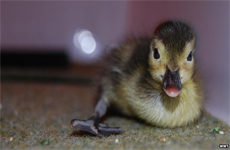 The population of Madagascan pochards increased to 60 recently when 18 ducklings hatched in captive under the care of the Wildfowl and Wetlands Trust and Durrell Wildlife Conservation Trust. The trusts began a rescue mission in 2009 to revive the pochard population. Scientists are monitoring the Madagascan wild population to discover why the species' numbers dropped so low.
Thought to be extinct 15 years ago, conservationists stumbled upon the Madagascan pochard in 2006 at Lake Matsaborimena in northern Madagascar.
Read more at BBC News.
Image credit: Wildfowl and Wetlands Trust.