Western water use far above what is sustainable
0
by Kevin Rose
— May 15, 2012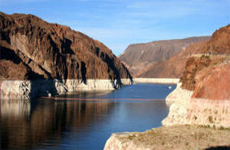 New research shows that human consumption in southwestern states accounts for 76 percent of all water usage in the Colorado River Basin. Reservoirs such as Lakes Mead and Powell provide some buffer against dry years, but due to high draws and low rainfall, those lakes now sit half empty. That's bad news for an area that is expected to grow in population and water demand by nearly 50 percent over the next 20 years.
Where does the water go? Agriculture uses most of the water. For example, farming uses 77 percent of total water allocations in Arizona. The key to sustainable water use, scientists say, is either to cut back or increase efficiency of agriculture or urban use.
Read more at ScienceDaily.
Image credit: ChrisMRichards/ Flickr/ CC-BY-NC-ND