Underwater microscope prevents shellfish poisoning
0
by Adam Redling
— September 20, 2011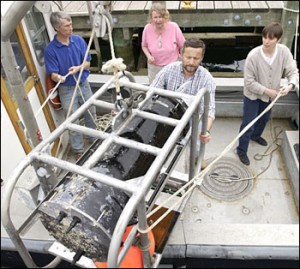 An underwater microscope known as the Imaging FlowCytobot has given scientists the ability to monitor the flow of microscopic plant and animal life in the ocean. The works by photographing plankton throughout the day and relaying specific information back to researchers on shore through a fiber optic cable.
The microscope has proven especially effective at monitoring concentrations of algae in the ocean that are harmful to humans. Specifically, the Imaging FlowCytobot senses harmful algae accumulation that builds up in filter-feeding shellfish and can be transferred to humans through consumption of contaminated marine life.
By detecting harmful algae in its preliminary stages, the Imaging FlowCytobot has already proven vital in allowing officials to shutdown shellfish harvesting and recall potentially poisonous oysters, clams and mussels before sickness occurs.
Read the full story at Marine Science Today.
Image Credit: photonics.com