Self powered buoys extract energy from wave motion
0
by Kevin Rose
— May 21, 2012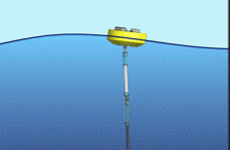 Scientists at Monterey Bay Aquarium Research Institute, with funding from Defense Advanced Research Projects Agency, have developed a novel way to use moored buoys to extract energy from waves. The prototype buoys are about 8 feet across and can generate up to 400 watts of power. Scientists aim to improve the current designs to generate about 500 watts.
Researchers hope that the buoys can be used to power scientific instruments and serve as underwater charging stations for autonomous underwater vehicles (AUVs). The buoys will complement, rather than replace, alternative power sources such as wind and solar.
Read more at Phys.org.
Image credit: Kim Fulton-Bennett