Product Spotlight: NexSens T-Node Water Temperature Strings
0
by Dave Hochanadel
— July 29, 2010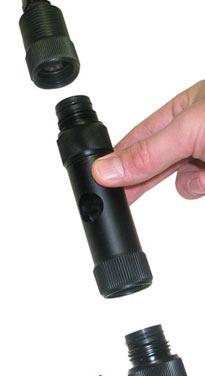 NexSens T-Node temperature string sensors offer environmental professionals a powerful platform for multi-point temperature measurements.
The temperature string consists of connectorized digital smart sensor nodes, or T-Nodes. One can connect a series of T-Nodes to build a string of measurement sensors for suspending vertically in a water column or horizontally along a stream or river bed.
Each node includes a completely sealed, extremely precise temperature measurement system with top and bottom waterproof connectors. Node-to-node connections are accomplished with rugged UW underwater cables of various lengths. Each smart node includes a non-volatile memory chip for storing sensor calibration and the node's unique ID.
Each T-Node sensor is factory calibrated to +/-0.1 °C for high-precision measurements. T-Nodes can withstand underwater deployments as deep as 100 meters in fresh, brackish, or seawater, and double o-ring seals ensure a waterproof sensor connection.
Temperature data is transmitted on a 1-wire temperature string bus. In addition to the 1-wire bus, the T-Node offers pass-through signals for SDI-12 and RS-485, allowing the user to connect other environmental measurement sensors along the string. This sensorBUS architecture has been designed to allow researchers to build and customize multi-point temperature strings as well as more powerful environmental monitoring systems.
T-Node sensors feature a plug-and-play interface to NexSens SDL submersible data loggers and are ideal for use on offshore data buoys (see an example deployment illustration here). Data collection options include standalone, radio, cellular, and satellite telemetry. For connection to external data collection platforms, the T-Node sensor string can integrate with a NexSens controller for data output in SDI-12 or Modbus RTU.
For more details, call Fondriest Environmental at (888) 426.2151, e-mail customercare@fondriest.com, or visit http://www.fondriest.com/products/nexsens_t-node.htm.