New York first state to halt natural gas "fracking"
0
by Dave Hochanadel
— December 13, 2010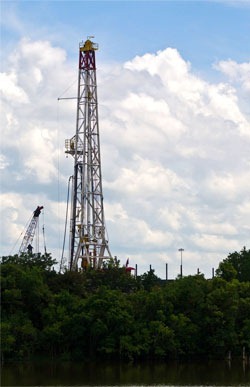 New York has become the first state to impose a formal moratorium on natural gas drilling that uses the controversial hydraulic fracturing, or "fracking" method.
Gov. David Paterson issued an executive order Saturday implementing a moratorium until July 1, 2011 on all horizontal, high-volume fracking.
The executive order, however, is not as strong as a more all encompassing bill passed by the state legislature that would have blocked low-volume, vertical oil and gas drilling as well until May 15. Paterson vetoed that bill, stating that it would have shut down numerous drilling programs that have operated safely for decades.
"This legislation, which was well intentioned, would have a serious impact on our state if signed into law," Paterson said in a prepared statement. "Enacting this legislation would put people out of work — work that is permitted by the Department of Environmental Conservation and causes no demonstrated environmental harm, in order to effectuate a moratorium that is principally symbolic."
Hydraulic fracturing uses the high-pressure injection of millions of gallons of water, sand, and numerous chemicals to fracture rock formations and release the gas deposits within.
New York has already held off on permitting Marcellus Shale gas drilling for two years, while the state Department of Environmental Conservation examines how such drilling could affect the environment.
While industry officials say the hydraulic fracturing process is safe, many conservation groups argue that the chemicals used in the fracking fluid, as well as the displaced natural gas, could be contaminating freshwater resources in areas where the process is already underway.
A palpable example of this concern manifesting is in Pennsylvania's portion of the Marcellus Shale, where there has been a boom in drilling that has negatively affected the water quality of the region. Notably, the town of Dimock, Penn., deemed by some the poster child of natural gas drilling gone wrong, has had reports of exploding water wells and tainted water supplies.
What do you think of the New York fracking moratorium? Share your thoughts in the comments below.
Industry, enviros praise NY gas-drilling time-out [The Wall Street Journal] New York governor halts gas "fracking" until July [Reuters] New York Governor Vetoes Fracking Bill [The New York Times Green blog]
Image Credit:http://www.flickr.com/photos/danielfoster/3804520281/