Environmental Monitor looks at research on alpine lakes and Lake Erie
0
by Dave Hochanadel
— November 10, 2010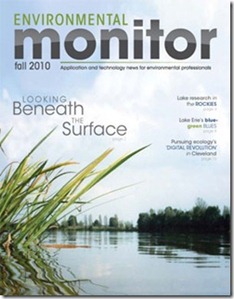 Fondriest Environmental has released the fall 2010 edition of its quarterly news magazine, Environmental Monitor. The magazine focuses on application and technology news for environmental professionals.
This issue details research on an alpine lake, Heart Lake, which lies at an elevation of 10,350 feet in the Rocky Mountains. The research team was interested in studying, among other data, the impact of nitrogen deposition on this sensitive environmental sentinel. The team hiked to the lake carrying a modular data buoy that was constructed on site, and the buoy recorded data throughout the summer.
Also included are a few stories centered on Lake Erie. One summarizes the lake's "blue-green blues" this summer thanks to record-high blooms of cyanobacteria. Another reports on a river morphology study on some of Erie's tributaries in the interest of predicting sediment accumulation rates behind Great Lakes harbors and navigation channels maintained by the U.S. Army Corps of Engineers.
The issue is available online in PDF format. A free print subscription can be requested by filling out a form at http://www.fondriest.com/newsletter.htm. Finally, articles are also posted in HTML format at http://www.fondriest.com/news.