Legislation would ban Asian carp as fishing bait
0
by Dave Hochanadel
— March 30, 2010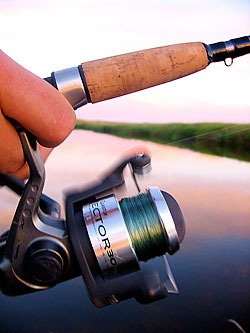 Some Michigan lawmakers hope to pass new legislation that would prevent the use of Asian carp as fishing bait.
State Reps. Rick Jones and Bob Genetski have introduced a bill in the Michigan House of Representatives, and State Sen. Roger Kahn has proposed similar measures in the Michigan Senate.
Both Senate Bill 1248 and House Bill 5986 propose banning the use of Asian carp as bait, as well as prohibiting the removal of minnows from known Asian carp infested waters.
"Asian carp are a serious threat to the health of our waterways," Kahn said. "This action is necessary to help stop invasive species from further damaging our state's delicate ecosystem and economy."
Two University of Michigan scientists say this legislation will fill a gap in existing law. The researchers said the invasive species would eventually gain a foothold in the Great Lakes as bait unless their use in this capacity is prohibited. The UM scientists are Gerald Smith, who studies fish distribution, and John Vandermeer, who studies ecological systems.
Kahn introduces legislation to ban Asian carp as fishing bait [MLive.com] Sen. Kahn works to ban using Asian carp as bait [Senator Roger Kahn's Office] Lawmakers want Asian carp banned as bait [GOPHouse.com] Image Credit: http://www.flickr.com/photos/trvr3307/ / CC BY-SA 2.0