Lake County, Ill. to post beach advisories online
0
by Audrey Rabalais
— May 24, 2012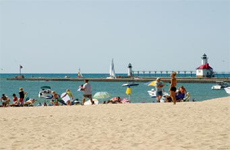 Lake lovers in Lake County, Illinois will now be able to go online this summer to check Lake Michigan conditions before heading out. Lake County Health Department will post beach advisories by 10 a.m. each morning from Memorial Day to Labor Day, alerting residents of high bacteria counts. The Heath Deparment's Lake Management Unit tests water near the beaches at Lake Michigan four days a week for E. coli.
Read more at the Chicago Tribune.
Lake County Health Department website.
Image credit: Michigan.org