Algae used to clean Baltimore's Inner Harbor
0
by Audrey Rabalais
— April 30, 2012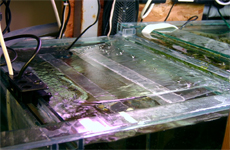 Though often seen as a villain in the realm of water quality, algae is being used in some areas such as Baltimore's Inner Harbor to clean and restore water. Water is pumped over a long wooden gutter coated in algae. The algae feed on the nutrients and sediment in the water and increase oxygen in it, acting as scrubbers before the water returns to the harbor.
The algae could have other beneficial implications such as organic fertilizer or biofuel. Scientists would like to eventually create a larger scale algae scrubber to clean the Chesapeake Bay.
Read more at The Baltimore Sun.
Image credit: Wet Web Media