Water Quality
What is Water Quality
Dave Davis | Kent State University
Water quality is a general term that refers to a general description about the properties of a water body. Lakes that have a high water quality possess properties that make it a high valued resource to society and nature.
Commonly, water quality is assessed through the use of many different parameters and methods ranging from simple test kits measuring parameters such as pH to much more complex electronic sensor platforms that can measure a wide variety of parameters over a long time at a high frequency. For each parameter, the quality of the water is generally reported with reference to a specific standard, to allow the quantitative measurement of that factor to be stated as a qualitative statement about the body of water.  Often, standards are set by governing organizations, such as the Environmental Protection Agency.
Why is water quality important?
Freshwater resources provide essential services to society. Arguably, the most important of these services is fresh drinking water for municipalities around the world. However, lakes and other freshwater resources also provide other important services, including power generation, water for bathing, sites for recreational activity, and important fisheries. Declining or low water quality impacts the value of lakes – both economically, ecologically, and socially. For example, if pollution enters a lake, it can reduce the water quality enough such that it is unsafe to drink as well as harm organisms that live in the water, reducing the ecological value of the lake. These changes can alter perceived value of the water body and hence reduce recreational activity and nearby land values.
Water quality is also an important concern for both human use of lakes and other freshwaters as well as the ecological value of water bodies. Water quality is used in determining the state of aquatic environments and is an interesting point of study in determining both human impacts and natural processes in the environment.
Water quality can be degraded by a number of important issues. To learn more about how some of the more important issues affect water quality, check out each page. Some of the most important issues in water quality today include:
Pollution
Sarah Hicks | Kent State University
Pollution affects water quality in lakes and other freshwater resources around the globe. It can take many forms from industrial, agricultural, or municipal sources; a few common examples include pesticides, herbicides, sewage, and litter.
Lakes often contain high pollution levels relative to the surrounding landscapes and environment. Rivers and streams drain pollutants from the landscape where they concentrate in lakes and other water bodies. Aquatic species such as fish can be extremely high in contaminants as some pollutants don't readily dissolve and dilute in water and are instead taken up into organisms. Some species of aquatic organisms are particularly sensitive to pollution; they are used as indicators of pollution and are called bioindicators. Because lakes drain a large surrounding landscape, they reflect the processes and actions that operate around them. When chemicals are spilled, they can drain into nearby streams and be transported downstream into lakes.
Point source vs. non-point source pollution
Pollution is generally categorized by how it enters a lake – either point source or non-point source pollution.
Point Source Pollution: Contaminants that enter a water body that can be traced back to a specific source, location, and offender. Point source pollution is easier to manage compared to non-point source pollution.
Non-Point Source Pollution: Contaminants that enter a water body that cannot be traced back to a specific source, location, and offender. Rather, this pollution comes from many diffuse sources and often enters in small amounts but can become concentrated in lakes and other freshwater resources.
Examples of point source pollution include dumping of industrial waste, effluent from sewage treatment facilities, illegal dumping, and other hazardous chemical deposition (e.g. nuclear waste). Heat can also be a pollutant. For example, power plants often use water to cool overheating components. Once used, this hot water is released into nearby lakes where it alters the lake's temperature. This heat is a form of pollution because it can be harmful and kill aquatic life including sensitive fish species1. Another example of widespread pollution is the legal discharge of sewage and other chemicals. For example, Detroit, Michigan reports disposing more than 700 million gallons of wastewater daily and 150 million pounds of toxic polychlorinated biphenyls (PCBs) yearly into the Detroit River, which serves as a link between Lake Huron and Lake Erie2. Because the source of point source pollution is often identifiable, it is much easier to manage than non-point source pollution.
When pollution emerges from locations far away from a water body or there are many small, diffuse sources, it is considered non-point source. Without an identifiable source, this type of pollution is often difficult to manage; it is harder to estimate how much pollution is actually occurring and what sort of impacts it is having. Non-point source pollution includes agricultural runoff (pesticides, fertilizers, manure), acid rain, nitrate deposition, and leaching from septic tanks. Non-point source pollution accounts for most of the contamination in water systems1.
How does pollution affect lakes?
Regardless of the source, pollution can disrupt aquatic life in many ways. In general, pollution reduces water quality. It can also reduce the diversity of wildlife, especially sensitive species (see bioindicators section to learn more). Fertilizers and pesticides from agricultural and urban runoff and sewage seepage from the groundwater enter lakes and cause elevated levels of nitrates and phosphates. These can lead to harmful algal blooms and eutrophication, which can be harmful to both aquatic life and human health. Industrial runoff can contain heavy metals, such as lead and mercury, which can find their way into the food chain. This can cause illness or death to fish, other animals, or humans that consume them. Sediment washed away from construction activities and urban or agricultural activity enter lakes, reducing water clarity and water quality, and can be lethal to aquatic organisms by becoming trapped in gills. Finally, atmospheric pollutants — from car exhaust pipes or industrial power generation can enter lakes as acid rain or other forms of acidic precipitation.
Managing Pollution
In order to manage pollution effectively, several questions must be answered:
What is the source of the pollution?
How much pollution is occurring?
What is the projected lifetime of the pollution?
What are the expected effects of the pollution?
Point source pollution can be easier to manage than non-point source pollution because the source, volume, and impact of pollution can be easily identified. Further, point source pollution impacts are often concentrated in one location, making remediation easier.
The level of impact from a pollutant is dependant on several properties of the particular pollutant.
First, its level of toxicity is an important consideration; some pollutants such as PCBs are highly toxic, meaning only a small amount is enough to harm humans and other organisms. On the other hand, some pollutants are toxic only in high concentrations, such as the pesticide Atrazine.
The amount of a particular pollutant in the environment is also an important factor regulating its effects. For example, if a particular chemical is only mildly toxic to fish, yet is found in the environment in high amounts because of a widespread application, it can be very harmful.
Finally, the lifetime of a pollutant – the length of time it is expected to stay in the environment – is another vital factor. Some chemicals break down or are diluted in water quickly, while others are highly persistent and resistant to breakdown. Examples of long-lived pollutants include chemicals DDT, PCBs, and mercury; these chemicals are highly resistant to degradation and can remain for decades after their release has stopped. For example, studies from the Great Lakes in the U.S. and other important lakes show that while the release of these toxic pollutants had decreased2 their levels in fish and other aquatic organisms have actually increased because they stay in the environment and accumulate in fish over long periods of time3. Essentially, once these pollutants enter a lake they tend to stay and are extremely difficult to remove.
What can you do?
Efforts have been made to reduce pollution in U.S. waterways for decades, with some success stories. However, new compounds and chemicals are released into the environment all the time. Pollution can be managed in a number of ways at levels ranging from the individual to the community, state, and federal level. Individuals can take action by disposing waste properly, planting trees to reduce sediment runoff, promoting water filtration, leaving wilderness areas intact, reducing fertilizer and pesticide usage on lawns and gardens, and selectively purchasing goods and services from environmentally responsible companies.
Federally, the Clean Water Act protects many U.S. waterways. This legislation allows states to establish goals and standards for wastewater treatments and overall water quality1. The 1990 Clean Air Act Amendments have effectively reduced acid rain pollution. This legislation regulates sulfur and nitrous oxide compound emissions.
The Environmental Protection Agency is charged with enforcing water quality laws. In recent years, the EPA has devoted billions of dollars to remove harmful pollutants and invasive species from U.S. lakes and other waterways4. The highest priorities include cleaning up the few toxic areas that have been polluted for over 20 years, decreasing phosphorus levels (which lead to eutrophication), and protecting surrounding wetland areas. The Great Lakes have suffered dumping of industrial waste, agricultural and residential runoff, and disappearing wetlands4. Through a combination of government intervention and increased awareness of the importance and fragility of freshwater resources, pollution can be effectively managed in the future.
Sources:
Krantz, D.& Kifferstein, B. (n.d.). Water Pollution and Society. Retrieved February 26, 2010, from University of Michigan website: http://www.umich.edu/~gs265/society/waterpollution.htm
Mahler, B.J., Van Metre, P.C., & Callender, E. (2006). Trends in Metals in Urban and Reference Lake Sediments Across the United States, 1970-2001 Environmental Toxicolgy and Chemistry, 25 (7), 1698-1709.
Toxic Contaminants in the Great Lakes. (2000, September, 27) Retrieved February 28, 2010, from Sea Grant: Great Lakes Network website: http://www.seagrant.wisc.edu/communications/greatlakes/glnetwork/toxics.html#tainted
Federal Officials Unveil Blueprint for Great Lakes. (2010, February 21) Retrieved February 27, 2010, from The New York Times website: http://www.nytimes.com/2010/02/22/science/earth/22epa.html?ref=politics
Cusheon Lake Stewardship. Pollution Problems. 2010. Retrieved online at: http://www.cusheonlakestewardship.com/polution-problems.htm
Content adapted from the U.S. Environmental Protection Agency.
Acid Rain
Acid rain and acid precipitation are broad terms referring to deposited material from the atmosphere that contains higher than normal amounts of nitric and sulfuric acids. These deposits come from a mixture of wet sources, such as rain, fog, and snow, and dry ones, including dust and smoke.
Most acid rain forms from man-made sources, primarily emissions of sulfur dioxide (SO2) and nitrogen oxides (NOx) from fossil fuel combustion, although it can occasionally form from natural sources, such as volcanoes and decaying vegetation. Acid rain is typically measured with pH. The lower a substance's pH, the more acidic it is. Pure water has a pH of 7.0. However, normal rain is slightly acidic because carbon dioxide (CO2) dissolves into it forming weak carbonic acid, giving the resulting mixture a pH of approximately 5.6. Acid rain that contains sulfur dioxide or nitrogen oxide emissions may have a much lower pH. As of the year 2000, the most acidic rain falling in the U.S. had a pH of about 4.3.
In the United States, roughly 2/3 of all SO2 and 1/4 of all NOx come from electric power generation that relies on burning fossil fuels, such as coal. Acid rain occurs when these gases react in the atmosphere with water, oxygen, and other chemicals to form various acidic compounds. The result is a mild solution of sulfuric acid and nitric acid. When sulfur dioxide and nitrogen oxides are released from power plants and other sources, prevailing winds blow them across state and national borders, sometimes over hundreds of miles, where they are deposited onto the landscape and drain into lakes.
Where Acid Rain Falls
Acid rain flows into streams, lakes, and marshes after falling onto forests, fields, buildings, and roads. Acid rain also falls directly onto aquatic habitats. Most lakes and streams have a pH between 6 and 8, although some lakes are naturally acidic even without the effects of acid rain. Acid rain primarily affects sensitive bodies of water, which are located in watersheds with soils that have a limited ability to neutralize acidic compounds (called "buffering capacity"). Lakes and streams become acidic (the pH values go down) when the water itself and its surrounding soil cannot buffer the acid rain enough to neutralize it. In areas where buffering capacity is low, acid rain also releases aluminum from soils into lakes and streams; aluminum is highly toxic to many species of aquatic organisms.
A recent EPA survey2 investigated the effects of acidic deposition in over 1,000 lakes larger than 10 acres and in thousands of miles of streams believed to be sensitive to acidification. Of the lakes and streams surveyed, acid rain caused acidity in 75 percent of the acidic lakes and about 50 percent of the acidic streams. The EPA identified several regions of the U.S. that contain many of the surface waters sensitive to acidification. They include the Adirondacks and Catskill Mountains in New York, the mid-Appalachian highlands along the east coast, the upper Midwest, and mountainous areas of the Western United States. In areas like the Northeastern United States, where soil-buffering capacity is poor, some lakes now have a pH value of less than 5. One of the most acidic lakes reported, with a pH of 4.2, is Little Echo Pond in Franklin, New York.
Acid rain effects are experienced in many places around the world. For example, the Canadian government has estimated that 14,000 lakes in eastern Canada are acidic. To find out more about lakes near your home or other locations, visit the U.S. EPA's "where you live" webpage.
How Acid Rain Affects Fish and Other Aquatic Organisms
Acid rain causes a cascade of effects that harm or kill individual fish, reduce population numbers, completely eliminate species from a lake, and decrease biodiversity. As acid rain flows through soils in a watershed, it releases aluminum from soils into the lakes and streams located in that watershed. Thus, as pH in a lake or stream decreases, aluminum levels increase. Both low pH and increased aluminum levels are directly toxic to fish. In addition, low pH and increased aluminum levels cause chronic stress that may not kill individual fish but leads to lower body weight and smaller size, making fish less able to compete for food and habitat.
Some types of plants and animals are able to tolerate acidic waters. Others, however, are acid-sensitive and will perish as the pH declines. Generally, the young of most species are more sensitive to environmental conditions than adults. At pH 5, most fish eggs cannot hatch. At lower pH levels, some adult fish die. Some acid lakes have no fish. Not all fish, shellfish, or the insects that they eat can tolerate the same amount of acid; for example, frogs can tolerate water that is more acidic than trout.
Acid Rain Effects on Ecosystems
Together, biological organisms and the environment in which they live are called an ecosystem. The plants and animals living within an ecosystem are highly interdependent. For example, frogs may tolerate relatively high levels of acidity, but if they eat insects like the mayfly, they may be affected because part of their food supply could disappear. Because of the connections between the many fish, plants, and other organisms living in an aquatic ecosystem, changes in pH or aluminum levels affect biodiversity as well. Thus, as lakes and streams become more acidic, the numbers and types of fish and other aquatic plants and animals that live in these waters decrease. Generally, ecosystems with higher biodiversity have a greater ability to deal with environment stressors, whether it be acid rain, climate change, or pollution. This means acid rain can make an ecosystem more susceptible to other stressors such as pollution by reducing biodiversity.
Controlling Acid Rain
Acid rain control produces significant benefits by reducing the impact of acid rain on lakes and other freshwater resources. If acidic deposition levels were to remain constant over the next 50 years (the time frame used for projection models), the acidification rate of lakes in the Adirondack Mountains that are larger than 10 acres would rise by 50 percent or more.
Emissions of sulfur dioxide and nitrogen dioxide compounds are regulated in the U.S. under the Clean Air Act Amendments of 19903. While the Clean Air Act Amendments enacted a maximum cap on sulfur dioxide emissions, no such cap was created for nitrogen dioxide. After 1990, acid rain precipitation has been reduced, but not eliminated, as emission rates for sulfur dioxide and nitrogen oxide compounds have been reduced. Fully eliminating acid rain, however, may be decades away.
The effects of acid rain impact human populations by creating a risk of consuming contaminated fish or shellfish, reducing our ability to use and enjoy lake ecosystems, reducing water quality, and causing economic impact on people who rely on healthy lake ecosystems, such as fishermen and those who cater to tourists.
Sources:
Environmental Protection Agency. Acid Rain. Retrieved online at: http://www.epa.gov/acidrain/index.html
United States Geological Survey. National Water Quality Assessment Program. Retrieved online at: http://water.usgs.gov/nawqa/
Environmental Protection Agency. Data and Maps. Retrieved online at: http://camddataandmaps.epa.gov/gdm/
Content largely adapted from GLEON's Harmful Algal Bloom Working Group Resources Page1
What are harmful algal blooms?
Harmful algal blooms commonly occur as surface scums and "blooms." Most occur in warm, still or slow moving, green-water lakes during summer and early fall months. They are often found in farm dams or ponds where very little mixing occurs, allowing warm water layers to form near the surface. Though many types of algae can form blooms, harmful algal blooms in lakes and other freshwaters have the ability to produce toxins that are dangerous to other organisms, including humans and aquatic life such as fish. Harmful algal blooms are formed by certain types of photosynthetic organisms called cyanobacteria or blue-green algae.
Harmful algal blooms can appear quickly and form ugly floating mats of various colors, or they can discolor the water. Blooms can also have a pungent, foul odor. While it is estimated most blooms are toxic, it is difficult to predict exactly when or even if a bloom is producing toxins. It takes a few days to sample blooms and test them for toxicity, and by that time the toxicity may have changed. Furthermore, the harmful effects of blooms may even occur when a surface scum is not visible.
Blooms that occur in drinking water sources can produce compounds that lead to toxicity as well as taste and odor problems. Toxicity can even occur in drinking water without taste and odor compounds. Depending on the region, harmful blooms can be a significant concern if drinking water comes from reservoirs or natural lakes.
Some of the techniques used to control or remove blooms can increase the water's toxicity, such as the use of algaecides. They may also be detrimental to organisms other than cyanobacteria and are generally not recommended. The most effective method to reduce blooms is through broad community effort to reduce nutrient loading into lakes. This is most often achieved through reducing the input of phosphorus, as well as nitrogen in a more limited extent. Though cyanobacteria are found in some of the oldest fossils and are natural to aquatic habitats, harmful algal blooms are increasing in frequency in the United States and across the world and are becoming more of a problem as eutrophication increases.
Health Concerns
The toxins produced by harmful algal blooms are a concern for human health. Toxins are produced within the cells and remain there until the cells break open, which may lead to the unpredictable toxicity of blooms. Water treatment processes can sometimes remove cyanobacteria and the toxins they produce although sometimes further steps are necessary because certain toxins are more difficult to remove than others. Toxins can also break down naturally in lakes. The World Health Organization (WHO) says that 100,000 cells/mL is a moderate human health risk, but there are currently no standards for cell or toxin concentrations in the United States. The most common toxin is called microcystins. There are at least 60 different types of microcystins, and their toxicity can vary significantly. The WHO standard for microcystin-LR in drinking water is 1.0µg/L, but there are no similar standards for waters in the United States. Other toxins found in harmful algal blooms include nodularin, anatoxins, lyngbya, and cylindrospermopsis. Nodularin are similar to microcystins and have the same effects. Anatoxins are usually more toxic than microcystins, and saxitoxins, the cause of paralytic shellfish poisons, are highly poisonous. Lyngbya toxin a and aplysiatoxins are both carcinogenic, and lyngbya toxin a causes seaweed dermatitis. Cylindrospermopsis is most harmful to the liver, but other organs may also be damaged by it.
| | | |
| --- | --- | --- |
| Toxin Types | Examples | Effects |
| Neurotoxins | Anatoxin-a, anatoxin-a(s), saxitoxin, neosaxitoxin | Affects central nervous system, causes seizures, paralysis, respiratory failure, and death |
| Hepatotoxins | Microcystins, nodularins, cylindrospermopsin | Affects liver, causes hemorrhaging, tissue damage, tumors, liver cancer, and death |
| Dermatotoxins and Gastrointestinal toxins | Aplysiatoxins, lyngbyatoxin-a, lipopolysaccharide endotoxins | Affects skin and mucous membranes, causes rashes, respiratory illness, headache, and stomach upset |
| Cytotoxins | Cylindrospermopsin | Affects liver and other organs; causes chromosome loss, DNA strand breakage, and organ damage |
Exposure
Exposure to cyanobacteria and cyanobacterial toxins can occur from the following:
Drinking water that contains harmful algal bloom cells
Drinking untreated water
Engaging in recreational activities such as swimming in water experiencing a bloom
Inhaling aerosolized cyanobacteria or toxins such as the spray from jet skiing and boating
Using contaminated water to water lawns or irrigate golf courses
Consuming cyanobacterial supplements containing mycrocystins
Dialysis (this has only occurred in Brazil)
Effects of Harmful Algal Blooms
Decreased recreational use and aesthetic value of waters due to toxicity, mats of algae, and the smell when cells begin to die are only some of the problems associated with harmful algal blooms. Harmful algal blooms can contaminate drinking water with taste, odor, or toxic compounds. The toxins produced during blooms are possible carcinogens to humans, and current research is studying the link between certain cyanobacterial toxins and neurological diseases such as Lou Gehrig's disease. There has only been one human death in the US possibly related to recreational exposure to microcystins, though there are multiple cases of gastrointestinal distress, skin irritation and nausea4. Recent reports have indicated that microcystins can be aerosolized, making recreational activities such as boating and jet-skiing a higher risk of exposure2. Microcystins may act as tumor promoters and there is increasing evidence that these compounds may be more harmful through long term chronic exposure, such as low doses in drinking water, rather than short term acute exposure3. This chronic toxicity is of significant concern to communities that are consuming drinking water with cyanotoxins in small doses over a lifetime.
Harmful algal blooms have been known to kill waterfowl and livestock, and dogs have died after eating mats of cyanobacteria or licking their fur after swimming in bloom-infested waters. In some cases, humans have also died after exposure to harmful algal blooms.
Harmful algal blooms negatively impact the food web by decreasing the amount of nutritious, edible phytoplankton that zooplankton and other primary consumers need to survive. These organisms may then starve, leading to decreased food for higher order consumers such as fish. Harmful algal blooms can block sunlight from phytoplankton under the water's surface, leading to decreased food and oxygen levels. When harmful algal blooms begin to break down and die, they can decrease dissolved oxygen levels, a change that can be lethal to other aquatic organisms and cause fish kills. Low dissolved oxygen can be made worse by overcast days and warmer temperatures.
Sources:
Harmful Algal Blooms. GLEON Harmful Algal Bloom Working Group Resources. 2010. Retrieved online at: http://blooms.uwcfl.org/
Backer et al. 2008. Recreational Exposure to Low Concentrations of Microcystins During an Algal Bloom in a Small Lake. Mar Drugs. 6(2) 389-406.
Carmichael 1997. The Cyanotoxins. In: Advances in Botanical Research Vol 27. by J.A. Callow. ISBN 0-12-005927-4
Bressie, J.D. et al. 2009. Drinking Water as Route of Exposure to Microcystins in Great Lakes Communities. NOAA. Retrived online at: http://www.glerl.noaa.gov/res/Task_rpts/2009/epdyble06-1.html
National Oceanographic and Atmospheric Administration. NOAA Announces an Experimental Harmful Algal Bloom Forecast Bulletin for Lake Erie. 2009. Retrieved online at: http://www.noaanews.noaa.gov/stories2009/20090917_ohiohab.html
Eutrophication
Jeremy Mack | Miami University
Eutrophication has been the focus of scientific studies for more than 40 years. Although many definitions exist1, it is generally defined as an increase in nutrients such as nitrogen and phosphorus that increase algal growth. Depending on the degree of eutrophication, severe environmental effects can develop, which degrade water quality. For example, increased phytoplankton biomass can decrease clarity, reduce levels of light, and decrease levels of oxygen, all of which ultimately have negative consequences for organisms that live in the lake. The magnitude of eutrophication reached a high point in the 1960s where Lake Erie, the smallest and shallowest of the Great Lakes, was considered a dead lake. Not only are the effects of eutrophication detrimental to lake biota, but they also pose a risk to human health in the form of harmful algal blooms.
Hungabee Lake (left), in the Canadian Rockies, is a crystal clear blue lake. In contrast, Lake Taihu (right) in China is considered a highly eutrophic lake; note its bright green color.
Natural vs. Human-Induced Eutrophication
The process of eutrophication is natural2. For many lakes, as they age over centuries, there is a buildup of nutrients, sediment, and plant material, which slowly fill the lake basin. Eventually, the process ends and the basin becomes colonized by terrestrial vegetation3. The timing of natural eutrophication is highly variable and depends on the characteristics of the basin, watershed, and climate1. However, humans, by altering nutrient inputs, have greatly increased the pace at which eutrophication can occur.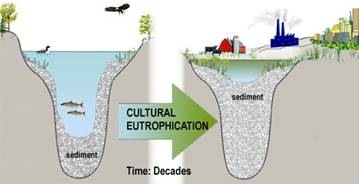 The process of eutrophication can be both natural and human-induced. Natural eutrophication, where the basin gradually fills in from nutrient and sediment inputs, occurs over long time periods – on the order of centuries. Human-induced, or cultural eutrophication, occurs on a much shorter time scale (decades) as a result of human disturbance and nutrient inputs. (Image from 10.)
Human-induced eutrophication of freshwaters, also called cultural eutrophication, is largely a result of increased phosphorus inputs from sources such as agricultural fertilizers or partially treated sewage. First described by Vollenweider in 1968, phosphorus, and to a certain extent nitrogen, were linked to the growing problems of eutrophication. For the first time, the focus was not solely on the lake but the connection to the watershed4. Today, our knowledge of lakes — not as closed systems, but as integrators of environmental change5 — highlights a stark contrast from earlier conceptions that lakes and their the biota were "closely related among themselves in all their interests, but so far independent of the land about them6."
Following Vollenweider's conclusions, evidence of human-induced eutrophication continued to amass7,8 and culminated with a large-scale experiment in a remote region of Canada, known as the Experimental Lakes Area (ELA). Established to investigate the growing problem of eutrophication, the ELA has been the site of many large-scale, ecological manipulations9. The experiment at Lake 226, arguably one of the most important, used a large curtain to create a barrier between two sides of the lake. Nutrient additions of carbon and nitrogen were added to both sides, but one side was also fertilized with phosphorus. The influence of phosphorus on eutrophication was rapid, visually striking, and ushered in a new era of water quality protection laws and regulation. As a result, changes in management practices were implemented and, through nutrient reductions, the impacts of eutrophication were reduced and in some cases lakes fully recovered8. Furthermore, a whole scientific movement began to further the understanding of the process and problems associated with rapid spikes in system productivity, something that continues to this day.
How does eutrophication cause fish kills?
One of the negative impacts of eutrophication and increased algal growth is a loss of available oxygen, known as anoxia. These anoxic conditions can kill fish and other aquatic organisms such as amphibians. However, how does eutrophication actually lower oxygen levels when it is common knowledge algae produce oxygen?
It is true algae produce oxygen, but only when there is enough light. Eutrophication reduces the clarity of water and underwater light. In eutrophic lakes, algae are starved for light. When algae don't have enough light they stop producing oxygen and in turn begin consuming oxygen. Moreover, when the large blooms of algae begin to die, bacterial decomposers further deplete the levels of oxygen. As a result, eutrophication can quickly remove much of the oxygen from a lake, leading to an anoxic — and lethal — underwater environment.
The Future of Eutrophication
Laws and regulations have been established that support high water quality standards. Often they specifically limit nitrogen and phosphorus inputs, simply because the effects of eutrophication, though reversible, can be quite devastating. Lakes with lower nutrients have lower algae concentrations, are generally clear, and are considered to be high-quality water resources and recreational sites. However, the management of these resources includes a complex set of interactions from within system processes to watershed interactions to even larger, global issues. Therefore, the continued effort to control eutrophication will require ongoing cooperation of citizens, scientists, managers, and policy makers8.
Sources:
Wetzel 2001. Limnology lake and river ecosystems, New York.
Greeson 1969. Lake eutrophication – A natural process. JAWRA.
Schindler 2006. Recent advances in the understanding and management of eutrophication. Limnol. Oceanogr.
Rast and Holland 1988. Eutrophication of lake reservoirs: A framework for making management decisions. AMBIO.
Vollenweider 1968. Scientific fundamentals of the eutrophication of lakes and flowing waters, with particular reference to nitrogen and phosphorus as factors in eutrophication. OECD Technical Report.
Williamson et al. 2008. Lakes and streams as sentinels of environmental change in terrestrial and atmospheric processes. Front. Ecol. Envriron.
Forbes 1887. The lake as a microcosm. Bull. Peoria Illinois Scientific Association.
Edmonson 1970. Phosphorus, nitrogen, and algae in Lake Washington after diversion of sewage. Science.
Schindler 2006. Recent advances in the understanding and management of eutrophication. Limnol. Oceanogr.
Stockstad 2008. News Focus Article: Canada's Eperimental Lakes. Science.
RMB Environmental Laboratories. Eutrophication. 2009. Retrieved online at: http://www.rmbel.info/Reports/Static/Eutrophication.aspx