Federal authorities make $78.5 million plan to keep Asian carp from Great Lakes
1
by Dave Hochanadel
— February 10, 2010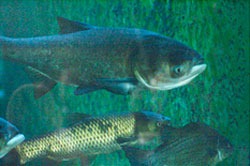 As the invasive Asian carp species works its way nearer the Great Lakes, federal authorities presented a $78.5 million plan to prevent such an incursion.
Leaders from some Great Lakes states, the Army Corps of Engineers, the Environmental Protection Agency, and other agencies met in Washington to develop an "Asian Carp Control Strategy Framework," according to the New York Times. The framework aims to prevent the fish from gaining a presence in the lakes.
No actual fish have turned up in Lake Michigan, but researchers have detected Asian carp DNA north of the electric barrier, which is supposed to protect the lake from foreign invaders.
The new plan calls for the completion of a third electric barrier to keep the carp that have already established themselves in the Mississippi River from making it the rest of the way to the Great Lakes. Additionally, it requests new barriers to prevent flooding that might assist in the spread of fish. The initiative would mostly be funded with federal monies already allocated to Great Lakes restoration.
It also proposes keeping navigational locks along the waterways leading to Lake Michigan closed more often, although they are invaluable commercial throughways in the Chicago area.
Some said the efforts wouldn't be enough. With respect to the navigational locks, Gov. Jennifer M. Granholm of Michigan told the Times she thinks they should be closed altogether at least temporarily.
What efforts do you think are appropriate for halting the carp invasion? Share your thoughts in the comments.
U.S. Officials Plan $78.5 Million Effort to Keep Dangerous Carp Out of Great Lakes [The New York Times] Image Credit: http://www.flickr.com/photos/ennuiislife/ / CC BY-NC 2.0